Accufast CKx System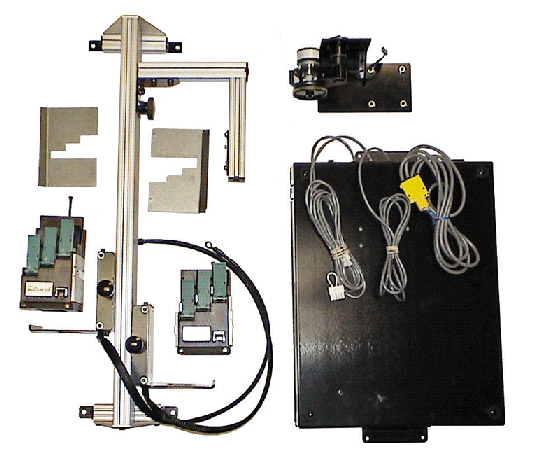 The ACCUFAST CKx is an imager kit. The imaging system comes ready to be installed over a conveyor, a mailing base, a sealing machine, a printing press or any other product moving piece of equipment.
Because it is in kit form, the CKx has to be specified based on installation and application. There is a good deal of customer involvement in this specification, and it is a necessary, but not a difficult task. The CKx comes with from 1 to 4 imagers in a variety of configurations. Typical installations use two 3 pen imagers shown supported on a central spine mounted on a conveyor or transport.
Mounting a CKx over a web requires alternate placement of the encoder and a different spine length but little else. Often, CKx kits are used in process related applications where neither inks or substrates change.
In these cases, ACCUFAST Bulk ink supplies save time and money. Bulk Ink supply configurations follow that of the CKx Kit. Note; not all pens on a system need to be attached to a bulk supply, allowing spot color printing for instance.

A note of caution, there are a number of different ink formulations. Typically, the different inks are chemically reactive to one another. Consequently once a bulk system is set up for one type of ink, it needs to be left that way.

There are 3 general configurations.

The basic CKx System. Not easily expandable, connected directly to a host computer via ethernet. Up to 1.5" (38mm) print.



The X-pandable System - one or two imagers. Up to 3" (76mm) of print in two 1.5" (38mm) sections. Imagers may be split or mounted together. Host computer connects to a hub and imagers via ethernet. (Shown in accompanying illustration.)



X-pandable System three or four Imagers. This set up adds an additional imager bar with one or two imagers to the initial X-pandable imager set up. Print area expands to as much as 6" (152mm) in 1.5 (38mm) increments. Same ethernet hub connection, similar imager placement options, more variety and flexibility.



Each Imager Bar can support 2 imagers. Whenever you have space on a bar, an individual imager may be purchased without adding more complication and expense. For example an X-pandable System with a single imager can grow with the addition of a second imager only. Same with a three imager set up increasing by one to include 4 imagers.
Additional mounting, configuration and imager capping options are available. Submit a drawing or sample of the application. Supply piece dimensions, direction of travel location of variable data to be printed and a general description of the operating environment.